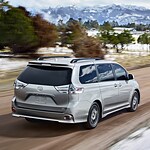 Are you looking for a minivan that your whole family will be comfortable in? How about a minivan that will keep the whole family entertained so you can focus on the road? If you are, the Toyota Sienna has all that and enough room to store all your luggage while giving your children enough leg room to keep them peaceful.
When your helping a friend move, the powered lift gate will help save your back when you're moving all the heavy furniture. It opens quickly and can be closed from the driver's seat. If you get injured and have trouble getting out of your seat, the Auto Access Seat can you lift up, rotate 90 degrees and extend from the vehicle to get you up and out.
There is a lot more to the Toyota Sienna besides comfort and convenience. Stop by and see one for yourself, and take it for a test drive today.