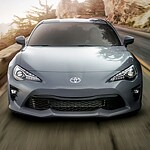 A sports car's interior is just as important as its exterior, if not more so. At least, that's one of our beliefs here at Riverhead Toyota, and manufacturers and designers at Toyota seem to agree with us! That would explain the interesting design elements of the Toyota 86, which is a sports car equipped with interior features that go beyond what other sports cars tend to offer.
The 86 is decked out with a Granlux trim to immediately let your passengers fall into a state of elegance. With gloriously embossed linings and trims throughout the interior, the design of the 86 will never fail to stand out. Additionally, the 86 also demonstrates a real sense of practicality, with a steering wheel equipped with audio controls so that the driver never needs to take their eyes off the road.
To dive into the Toyota 86's interior, come test drive the sports car here at Riverhead Toyota.