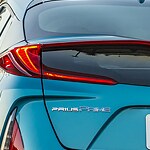 The Toyota Prius Prime Features a front-wheel drive and a power-assisted ventilated front disc brakes. It also has a hybrid system, which produces 121-hp net power. It features a permanent magnet AC synchronous motor that allows the vehicle to attain three driving modes of Eco, EV, and Power mode.
Toyota Prius Prime is powered by a Li-ion battery that offers a more extended range and enhanced performance in all-weather conditions. Driving the Toyota Prius Prime is fulfilling as it offers a tranquil ride, thanks to its ECVT transmission system that provides swift-shifting smooth ride quality.
Toyota Prius Prime uses a 1.8L 4-cylinder Atkinson cycle engine that works with an electric motor and battery pack to power the car. This car is designed for performance right from the exterior styling and aerodynamic design. This gives the Prius the ability to traverse the most challenging terrains and attain high speeds in the city and highway.